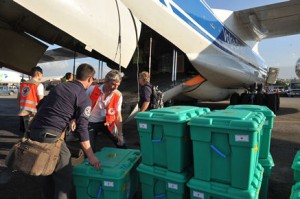 Gravesend Rotary Club, like many other clubs, is proud to support Shelter Box. ShelterBox was developed by a Rotarian from Cornwall. In 2000 he wanted to help people all over the world who had suffered as a result of a natural disaster, e g earthquake, fire, tsunami, hurricane etc. These boxes needed to contain equipment for families who had lost everything, yet portable enough to transport to remote areas of the world.
We decided to visit local primary schools to explain to them the work that was being done for people, who through no fault of their own, were suffering in terrible conditions. Needless to say the schools, in particular, along with some churches and local retirement associations responded fantastically.
Each Box costs £600 and to date some 20 boxes have been paid for by the people and children of Gravesend, and these have been sent to all different parts of the world. To date since its inception in 2000, 130,300 boxes have been distributed worldwide; Each Box has its own specific number which means that the children can track it on their computers so they know which part of the world it has been sent to.
Here are some pictures of our recent visit to a local school in October 2013. Click them for a larger picture.
Look at some posts about our support for ShelterBox:
Visit the ShelterBox web site (opens in a new tab/page).
Chris Keeble (November 2013)