Footsteps International in Kenya

For several years The Rotary Club of Gravesend has supported a UK based charity working in Naivasha, Kenya. It is Footsteps International run by Martin and Mary Print from their home in Orpington, Kent. Martin came and spoke to us about his project to support street children (literally children living on the streets) and orphans. We were so impressed by his commitment and enthusiasm for this project that we immediately offered our support.
In is important for our Club to make sure that charities such as Footsteps are becoming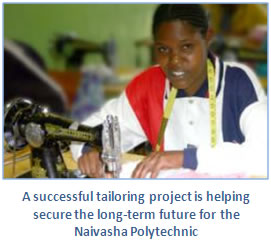 'independent of outside support' because only in that way will they be sustainable.
Not only have they built living accommodation but also a work place so that the children have a purpose in life. Each time Martin and Mary come to visit us we are increasingly impressed by the work that they do for others.
We raised the money to buy sewing machines so that they could make school and work uniforms. In no time at all they were raising enough money to provide more accommodation for the many children who, through no fault of their own had a pretty torrid existence.
We are currently working with other local rotary clubs to secure an International Grant from Rotary Foundation so that electricity can be installed in the home via solar power and to provide a large underground rainwater storage tank which would provide hot water for cooking etc.
Martin's website is very informative and pictures of what they have achieved, we are sure you agree, are most impressive.
Chris Keeble
Look at some posts about our support for Footsteps International:
Watch this space
Visit the Footsteps International web site (opens in a new tab/page).