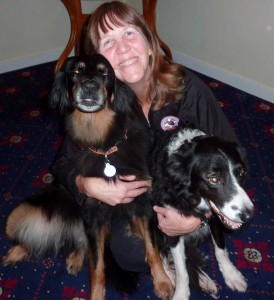 At our regular monthly dinner with partners and guests in November we were  given an insight into the workings of the KSAR and in particular the training and operation of the canine section of the service.
Jo Kenny, pictured with her dogs Bryn, a 10 year old Border Collie and Sky a 6 year old Hovawart are trained to search for specific missing persons, then return to their handler when the person  is found and guide the handler to the site.
Searching for hours at a time they will be rewarded for a "find" with their particular favourite treat…. For Bryn this will be chasing a ball or a game of tug of war with Jo …for Sky a piece of cheese is ample reward..
The Service operates throughout Kent and in searching fields, woods and open spaces as well as rivers and lakes etc. is the lowland equivalent of the Mountain Rescue Service . All members are volunteers with full or part time jobs and are liable to be called out at any hour of the day or night.
KSAR is funded by public donation and Rotary President John Dyke, when handing Jo a cheque from the club members said that "To help the men and women providing such a valuable service to society is a privilege"
Bob Denby