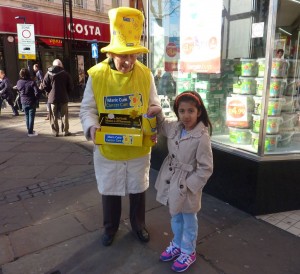 Shoppers in Gravesend last Saturday  7th March generously supported the Marie Curie Cancer Care  Daffodil Day collection.
Rotary Club members were out in force in the town centre selling daffodil badges for the charity and raised over £350.
Founded in 1948 to nurse cancer patients in their own homes Marie Curie Cancer Care,  now has hospices and research facilities throughout the UK and supports over 40,000 terminally ill patients and their families.
Pictured giving her pocket money to help is  6 year old Jaslene from Bean with a Rotarian helper.
"The fine weather  put everyone in the mood to help a good cause",  said Rotarian club organiser Duncan Hiscock ," our club has been raising funds for Marie Curie for over 15 years and once again we would like to thank all who supported us."
Bob Denby