The picture shows boys from the Sunshine Centre in Naivasha Kenya. It was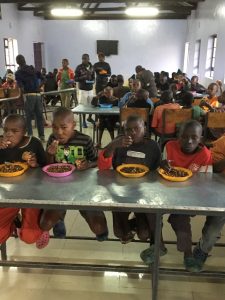 taken last July when two of our members, Di Trimm and Chris Keeble with their spouses Malcolm and Marion visited and worked at the Centre for two weeks.
Footsteps International Charity started the Sunshine Centre nearly 20 years ago to provide accommodation and schooling for boys who were living on the streets of Naivasha.
How things have changed following the spreading of the coronavirus pandemic.
The Kenyan Government has told children's institutions to link children back with their relatives where possible to reduce crowding and decrease the risk of spreading. Most of the boys have some family who can care for them, but those who do not are being cared for by staff members.
The boys who have been sent back to their families are at great risk because they are likely to revert to the street for their survival. The very reason that they were encouraged to go to the Centre in the first place.
The Centre staff acted fast and very soon were able to take emergency supplies to 10 families and this has increased, providing them with flour, beans, bars of soap and green vegetables from the Sunshine Centre Farm.
To support this action the Rotary Club of Gravesend donated £500 to Footsteps International which was matched by Rotary District 1120 to make a total grant of £1,000.
To see how Sunshine Centre are continuing to manage at these times please go to their website www.footstepsinternational.org
More about Footsteps and Rotary
Chris Keeble