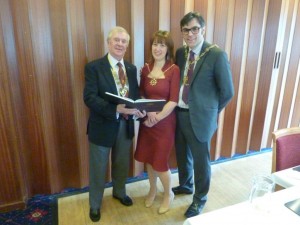 The Mayor of Gravesend Councilor John Caller and the Lady Mayoress Mrs Sue Caller  were guests of the Rotary Club of Gravesend for the club's annual Civic Day lunch on Monday 7th March.
In his address to the members, the Mayor said that during his year in office he had been most impressed by the amount of work that went on behind the scenes to help those in need. He said that "Throughout the Borough  there are groups of  volunteers quietly working  away to make other peoples lives that much better. None of them seek recognition for what they do but all are improving  the quality of life for so many people and deserve the  thanks of everyone in Gravesham.
He thanked Rotary for its continued  support for the many smaller charities through it's annual "On Your Bike"  sponsored cycle ride  and said that once again this year both he and the Lady Mayoress intended  to take part.
Bob Denby