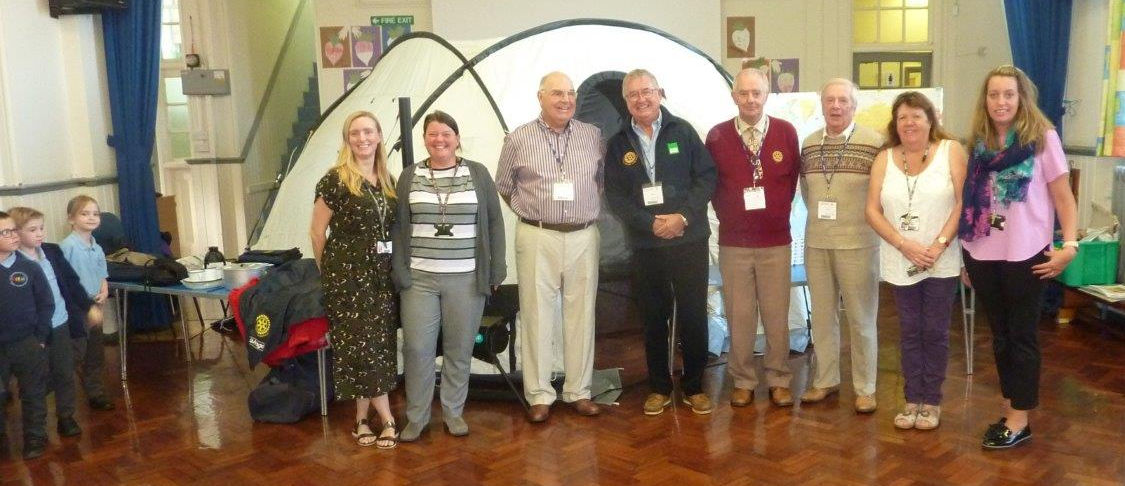 Members of the Rotary Club of Gravesend gave a talk to the pupils of Cecil Road Primary School today 11th Oct and showed them what was in the Shelterboxes that are being sent to Indonesia.
Afterwards the deputy head teacher Carrie Old announced that the children would be fund raising over the coming weeks to help the people in that disaster area.
Rotarian Chris Keeble gave an idea of what it was like to survive a disaster and be left with nothing as he showed them what was packed into a Shelterbox; a tent capable of providing shelter for a family of ten, a bag of colouring pencils and paper for the youngest child. An axe to cut the wood for the stove and "life straws " providing clean drinking water from contaminated puddles. Ground sheets, sleeping bags and mosquito nets and the folding shovels to dig a toilet were amongst many other items. Everything needed by a family or group of ten people suddenly left without shelter, power or possessions has been thought about and packed into a green Shelterbox. which itself can be used for bathing a baby.
In response to many questions from the children who packed the school hall for Assembly, the display team told them of the Rotarian from Cornwall who in 2000 first conceived the idea of a Shelterbox and the work done world wide by Rotary clubs to help those in need.
H e said how the original idea had grown so successful that it had now to be run by a charity who send teams out to see what was needed in a disaster area and organise the thousands of boxes that were being sent from supply centres strategically sited world wide.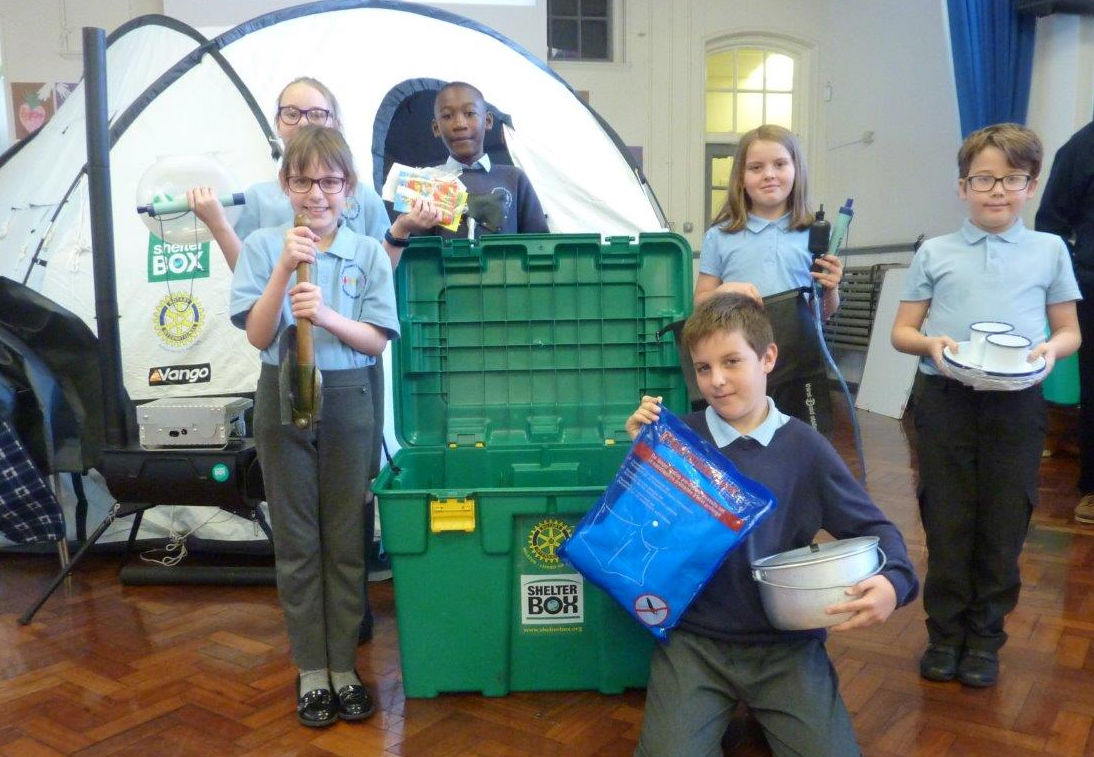 Thanking Chris and his team, the deputy head teacher said that "starting today the children will be coming up with as many ways of raising money to buy as many Shelterboxes as possible to help the people of Indonesia and people in need throughout the world. This demonstration has inspired our children to think of others and we are grateful to Rotary for showing us how we can help"
Since this talk the school has already raised £70 towards a shelterbox from a curry lunch.
Photographs:
The wide photo at the top shows Rotarians ( Four centre ) and two school staff each end.
The other photo shows clockwise from front left 6th year pupils Kacey, Carla, Brenda, Olivia, Laurence and Mate holding items from the Shelterbox
Further details from Rotarian Bob Denby 01634 717438 and from www.gravesendrotary.org.uk
Bob Denby