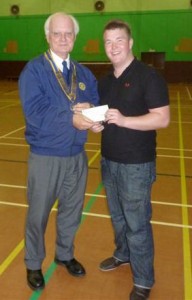 April 2012 – When the local Northfleet Youth club sought financial help towards their canoe training for a Duke of Edinburgh Silver Award our club members decided to hold a gardening Question Time evening to support them.
Experts from local garden centres and nurseries formed the panel and the public brought their questions. A total of £309 was raised and President Brian Portway is pictured presenting the cheque to youth club member Daniel Bruty.
The money will go towards transport, training and equipment for the challenge later this year and which will make the group the first in Kent to canoe their way to the Silver Award.
When presenting the cheque President Brian said" Rotary supports community projects and youth groups both locally and internationally and we in Gravesend are proud to continue this work.