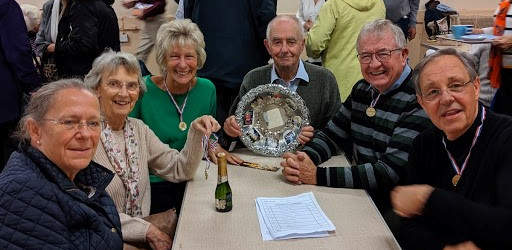 In the evening of Saturday 12th October 2019 a Gravesend Rotary team took part in the Ifield Church annual quiz night. Rotarians Chris, Adrian and Tony together with their wives Marion, Lynfred  and Sue worked their way through the 8 rounds of challenging questions. After four rounds and at the halfway point the team trailed the leading team by one point.
The delicious cold buffet at the interval built back the energy levels of the Gravesend Rotary team members such that they eventually won the quiz by 3 points clear points. The Rotary team prevailed through the application of logic, knowledge, deduction and, of course, strong team work.
The photo shows the team with the quiz trophy and their medals. As the winner the Club has the privilege of preparing the questions for the next quiz in 2020.
The in-form Chris Keble said: " We always enjoy the Ifield Church quiz. It was a fun evening and a strong team effort. We very much look forward to the event next year and can build upon the experience of Adrian and Lynfred for preparation of the questions."
Tony Muckley