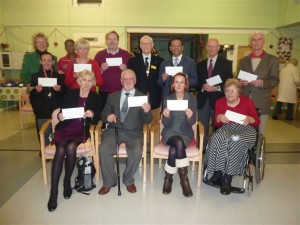 December 2012 – Pictured are the representatives of 10 local charities who were presented with cheques totalling some £4,000 at an evening meeting on 5th December 2012. This amount was part of that  raised by the "On Your Bike" cyclists, in April this year. The EllenourLions Hospice in Northfleet has already received support from the ride.
Each of the charity reps expressed their gratitude not only to Rotary but to all the cyclists who pedalled the countryside  roads of Gravesham to support them and their work
President Chris Wraight (pictured centre) said that " each spring for over 25 years hundreds of Gravesham cyclists, supported by friends and families, have set off to help the sick and needy of our community. We in the Rotary Club of Gravesend are pleased and proud to be able to continue organising an event which has done so much for local good causes.
The success of our efforts however depends on the help we receive from other local service clubs and organisations and on behalf of our members and everyone who has benefited I would like to say a sincere thank you"